BHCR News
All the latest news on what is happening at BHC.
Tuesday, July 18th, 2017
All updates and news will now be shared on the BHR Facebook page at: BHR Facebook Page
See you there!
Tuesday, April 4th, 2017
Some of our favorite logos we use on the ranch!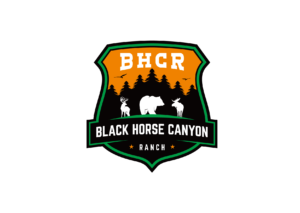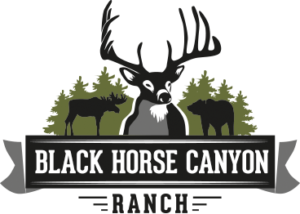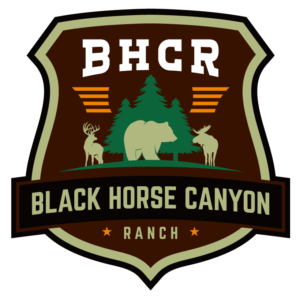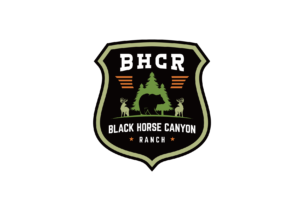 Monday, November 11th, 2013
Since 2012 we have seen a rise on the number of sightings of big-game predators.  Several of our workers on the ranch have seen wolves and cougars during the day, and we continue to find wolf tracks around the ranch.  This has caused us problems with hunting, especially in early 2013 since the wildlife seem to move out of the area when the wolves move in.  We work with local wildlife officers and have reported each sighting so they can keep tabs on the packs in our area.  We will learn to cope with this new threat to our wildlife programs, but it won't be easy!  Stay tuned as we wait for our game cameras to capture our first wolf pic …
Thursday, October 25th, 2012
After 5 years of watching this gorgeous buck grow on the ranch, we were finally able to harvest him! A hunter out of Michigan made the shot with the help of an NWHA guide, after 4 days of intensive hunting. The entire adventure was filmed by NWHA for The American Crave television show. The monster weighed in at almost 265 pounds and should measure as a 150-inch buck. Great job to everyone who made the hunt and the season a success!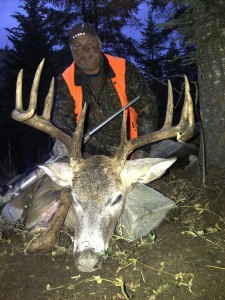 Friday, December 23rd, 2011
2011 ended with lots of beautiful bucks on camera, but none taken by hunters!  This means next year will even better with more mature bucks calling our ranch home.  We were able to have a youth hunt, and a nice fat doe was taken!
Saturday, July 2nd, 2011
BHR just completed an upgrade to its power grid by adding solar panels! The post-mounted panels were integrated to our hydro power system this month, and will provide another source of electricity to keep our batteries at full capacity. We hope these are the first of many panels, and we'll keep you updated!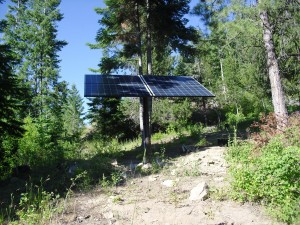 Monday, May 16th, 2011
BHR just won a large Natural Resources Conservation Service )NRCS) grant through the Conservation Stewardship Program (CSP).  The generous award was given for past conservation practices we've implemented on our ranch, and also as an incentive to implement further habitat and forest improvement practices.  The contract spans 5 years with lump sums paid every year.  The Ranch will be putting the money to good use upgrading stream crossings, planting pollinator habitats, continuing with our aggressive timber stand improvement (TSI) and financing a host of other conservation projects.  This new CSP grant adds to our EQIP grant from 2009, and allows us the freedom to implement rigorous habitat improvement projects which further enhance the beauty and value of our land.
Sunday, April 24th, 2011
The Ranch has seen a huge increase in turkey sightings with the completion of 2 large food plots last year.  This year there have been 3 turkeys taken each with beards over 9 inches!  There has been a lot of action, and a lot of success so far.  Pictures soon to follow once Harvey Creek Archery gets a breather!
Thursday, April 14th, 2011
The season went extremely well this year. Harvey Creek Archery filmed several hunts on our ranch for use by the Northwest Hunting Addicts on their TV show, with two large bucks were caught on tape. One mature buck was missed during archery season, and the other one on tape never came within bow range. Kelly himself did manage to kill a nice 120-class buck during the late archery season. What made the season so successful in our eyes was the abundance of large, mature bucks. While we only managed to harvest one buck this year, it was not because of a lack of animals, but a lack of hunters! The same deer we saw this year will be back again next year, bigger, healthier and ready to harvest!
Saturday, November 6th, 2010
BHCR has just begun to offer its premium lumber to the public! Historically, The Ranch has used all the sustainably grown and harvested timber to meet its own lumber needs, but now that there is a surplus of large logs, we have begun taking orders for large beams, custom-cut mantels and lumber. There are a number of species to choose from: Ponderosa pine, Grand fir, Douglas fir, Lodgepole pine, Tamarack, Aspen, Alder, Birch and even some spruce and cedar. Some of the most interesting mantel pieces come from mistletoe trees which produce incredible grain variations due to the irregular growth caused by the mistletoe. Call us and let us know what your looking for!