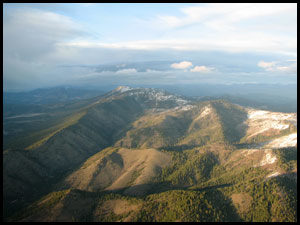 Black Horse Canyon Ranch (BHCR) is nestled in the heart of the Huckleberry Mountains at the headwaters of the North Fork of Hunters Creek. Totaling just under 1,600 acres, the Black Horse Canyon runs right through the middle of the property, and supplies the ranch with breath-taking views, incredible rock formations, plentiful year-round springs and timber sanctuaries for the myriad wildlife and game species that call the ranch home.
BHCR is comprised of four riparian valleys with grand fir, aspen, alder and birch as the dominant species. The main creek valley where the North Fork Hunters Creek flows is about 80 acres and includes 4 acres of food plots seeded in both annual and perennial forage varieties. Surrounding these lush valleys are Douglas fir, Ponderosa pine, Western larch and Lodgepole pine forests. These conifer stands provide excellent cover and wintering areas for a large population of mule and whitetail deer as well as elk and moose. Further up the canyons, hikers can find Western red cedar as well as Engleman spruce stands. Many of our open meadows, and especially the food plots, attract a host of upland game birds and turkeys throughout the year, giving ranch guests an amazing array of wildlife viewing opportunities.
The ranch's main focus is on forest management to increase commercial timber production, and wildlife management through habitat restoration and careful long-term planning. BHCR has been working closely with the Natural Resources Conservation Service (NRCS) to implement our forestry and habitat goals. The ranch was awarded a large federal grant in 2009 under the Environmental Quality Incentives Program (EQIP)to improve a 113 acre section of forest located on our Western slopes aimed at enhancing forest health and regenerating crucial wildlife habitat. Another large NRCS contract was recently awarded in early 2011 under the new Conservation Stewardship Program (CSP) which covers the entire ranch acreage and rewards past conservation performance as well as funds new habitat improvement projects. A new EQIP grant was confirmed for 2016 along with another CSP grant, with the focus on post-fire habitat improvement. A very successful cost-share program was implemented in 2017 in partnership with the Stevens County Conservation District, and we are working on another cost-share with the Farm Service Agency for 2018. These are just some of the many avenues BHCR is pursuing to ensure our family ranch is both productive and enjoyable well into the future.
Commercial operations on the ranch focus primarily on our hunting operations, forestry and cabin rentals. BHCR also offers a range of recreational opportunities for anyone to enjoy from hiking, camping and trout fishing to wildlife viewing and even boating on the nearby Lake Roosevelt National Recreation Area located only 5 miles away, and visible from the ranch's high grounds. To assist our family, and give our ranch more financial options, we recently constructed an off-grid, renewable hydro energy facility that will provide clean, cheap power as our ranch continues to grow. This power source will supply all the electrical energy our current facilities require, as well as produce enough for additional planned cabins. We worked closely with The Federal Energy Regulatory Commission to ensure our project was designed efficiently and responsibly.
Look us up on VRBO, Airbnb, Hipcamp or Glamping Hub to check on the availability of our cabins for rent!
Call us today at 509-869-5594 and see what BHCR and our family can offer you.